About us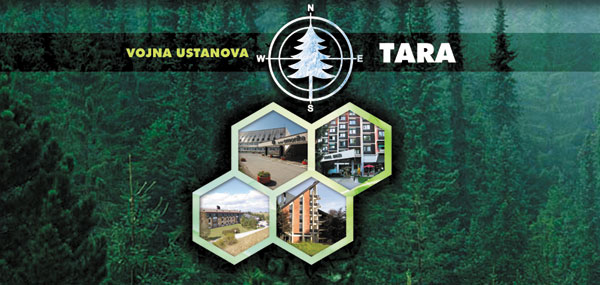 Hotel OMORIKA with the depandance JAVOR and hotel BELI BOR on Tara are in business as a part of Military facility "Tara", which was founded on 7th of June 1977. As of 2010, the hotel BREZA also does business as a part of the military facility "Tara".
Hotels OMORIKA and BELI BOR are situated on Kaluđerske bare, the most beautiful part of the mountain Tara, at an altitude of 1060 meters.
The development of tourism on Tara began even before World War Two, on Kaluđerske bare, where monastery Rača built the first mountain home with 60 beds. The Central Hygiene Institute from Belgrade built climate health sanatorium for children with 16 rooms with numerous beds. These buildings were demolished during the war.
After the war, a hotel "Tara" with 130 beds was built near the road Mitrovac – Kaluđerske Bare, and after that, a motel "Jeremičak", which is now a part of MF "Tara". It has been recently renovated, so now it has a national cuisine restaurant and a terrace.
In dependence "Javor", along with the capacity of 50 beds, there is a national cuisine restaurant with good food and live music during the evenings.
National cuisine restaurant "Radmilovac" has been recently renovated, and it offers a wide range of national dishes in pleasant interior and the shade of surrounding pine trees during the summer.

QUALITY AWARDS
For its work MF "Tara" received numerous awards from different tourist associations and organizations, agencies and business partners.
First award of this kind was Silver snowflake, and it was received in 1980, and the next one, Tourist flower, in 1984, and in 2004 a Golden heart. These awards are given for the organization of winter tourism, and the Tourist Prism confirmed the quality of comprehensive category for evaluating diversity and levels of offered tourist services.
Likewise, also in 2004, an award The Champions of Winter Tourism was given by International center for tourism and catering development SACEN International.
The director Jovan Mijatović was awarded Manager of the year in catering and tourism in 2006.
First place and overall winners on Production and working competition of tourist and catering workers of Serbia in Vrnjačka Banja in 2007, and the second place in the same competition in 2011.
Military facility "Tara" received a special award "Golden tourist heart of 2008" for applying high standards of quality ISO 9000 and HACCP in catering and tourism. The award is given by the International center for tourism and catering development SACEN International.
In 2013, a Golden plaque was also given by SACEN International.
Serbian table of meatless food Perućac 2012. – First place in team competition as well as the first award for the diversity of exhibited dishes.